Eggs From Our Chickens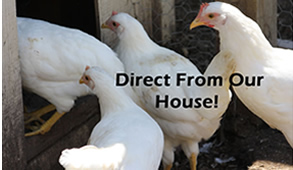 The eggs from our own chickens are far superior in many ways.
Eggs purchased in a grocery store were typically laid by a hen several weeks ago. Yes, it takes that long for the eggs to first be processed, then transported to the grocery store.
Our fresh eggs have more nutrients.As the eggs age, they lose some of their nutrients. Fresh eggs have about twice as many omega-3 fatty acids, 60% more vitamin A, 3 times more vitamin E, 7 times more beta carotene and 5 times more vitamin A! Yes, they do cost a bit more, but you are getting more!
You may be surprised that our eggs are less likely to be infected with salmonella.Even if you buy "cage free" eggs, the hens are sill living in very cramped quarters in a warehouse. They walk around in waste, and must be given antibiotics to prevent disease.
Our fresh eggs are tastier than the mass-produced type available at the supermarket. But don't take our word, stop by anytime. Our fresh eggs are available in our new self-serve shed 24 hours a day.